POP Plant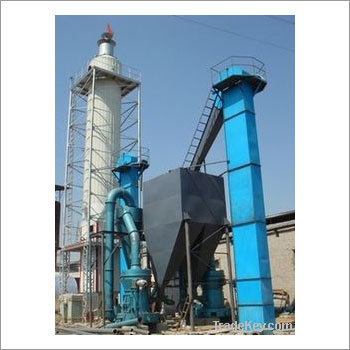 POP Plant
Product Description
GYPSUM POWDER PLANT

AB Engitech provides complete range of machinery and turnkey solutions from 15,000 TPA to 30,000 TPA for manufacturing of Gypsum Powders.
INTRODUCTION
Gypsum Powder also known as Plaster of paris which is calcium sulphate with half molecule of water of crystallisation (CaSo4 H2O) possess outstanding property of setting and subsequent hardening when mixed with water. Plaster of paris is extensively used in ceramic industry for the preparation of models, moulds and plaster of toys. It is also used as a main raw material in the manufacture of toys and statues, chalk crayons, gypsum plaster boards, decorative picture frames, besides a wide range of applications in the interior decoration of buildings and other establishments.
MANUFACTURING PROCESS
Firstly, raw material is crushed by jaw crusher to the size required, then elevated into a hopper from which the material is transported through the electro-magnetic vibrating feeder evenly and continuously into the grinding chamber for powder-processing. The rollers oscillate outward to press the ring because of the centrifugal force and the shovel scoops up the materials, send to the middle between the ring and rollers to accomplish the grinding. After grinding, the rough materials will be recycled by the air from the fan back into the grinding chamber for regrinding and the fine powders are blew into the cyclone and poured out through the output-powder pipe as the final products.

HIGHLIGHTS OF ABE POWDER PLANT
Low capital investment & low production cost
Use of advanced proven technology
Customized Plant Layout & Design
Easy to operate & maintain
Environmental protection.
Contact Us
E-25, MIA Basni Phase-II, Jodhpur, Rajasthan, 342005, India
Phone :09983301153